Every year, the food industry generates up to 8 million tons of crab, lobster, and shrimp shells, many of which are either dumped back in the ocean or end up in landfills. Now, a biomaterials startup called TômTex wants you to wear them instead.
The Brooklyn-based company has created a kind of "leather" that is made of waste seafood shells — or more precisely a polymer extracted from them, called chitosan. (Vegans can opt for a TômTex version made of mushrooms.) And unlike most synthetic leathers on the market, it uses no chemical treatments (just green chemistry) and is completely plastic-free.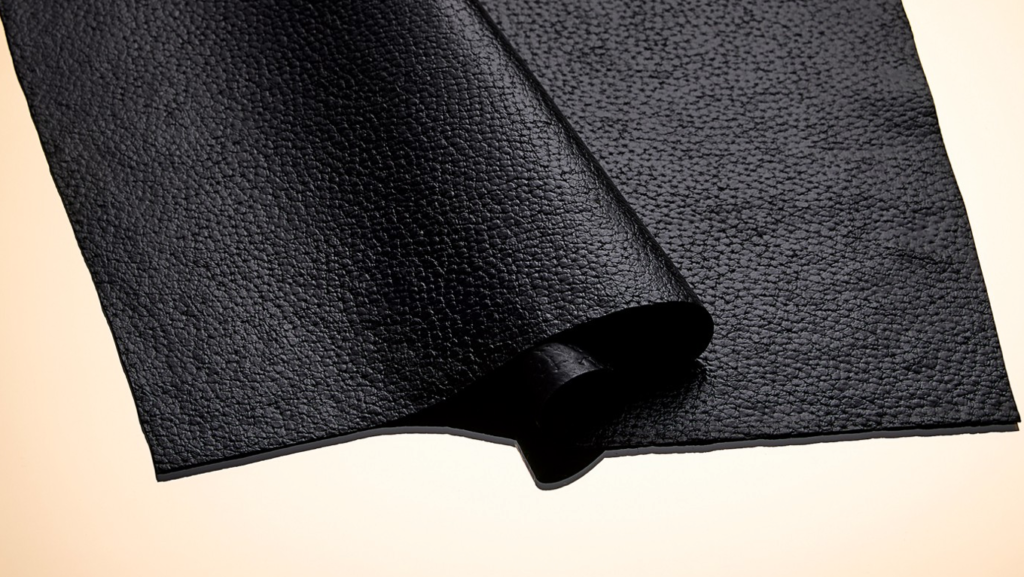 TômTex was founded in 2020 by Uyen Tran, a Vietnamese designer and materials researcher who wanted to develop a material that is both environmentally friendly and uses waste as its primary source. The biodegradable material was first developed then, but TômTex has now revealed its first product in collaboration with fashion designer Peter Do. The garments, a tan tank top and a pair of pants, were made with TômTex leather that was rendered shiny with a coat of beeswax.
Here's how it works: TômTex works with organizations in Vietnam that collect seafood shells and fish scales, then extracts chitosan, which the company buys in powder form. The powder is then mixed with water and other nontoxic binders (anything more toxic than sea salt has been deemed off-limits). The mixture is poured into a mold, where it dehydrates overnight and turns into a soft yet durable textile. "The beautiful thing about our material is that everything is customizable," says TômTex cofounder and CEO, Atom Nguyen. Indeed, the molds allow for various patterns that mimic animal leather-like crocodile or snake skin (the material can also be embossed at a later stage). It can be dyed with natural pigments like charcoal or turmeric. The thickness can vary depending on how much mixture is poured into the mold, and the material performance can be tweaked by changing up the kinds of binders used.
Because of this level of customization, Nguyen says every material can be developed to spec, with a variety of clients. While TômTex launched in the fashion industry, Nguyen envisions a wide variety of applications from consumer goods like phone cases to dashboards and car seats in the automotive industry. Regulations for such materials are incredibly stringent, but Nguyen believes that it will take one to two 2 years to codevelop this with a brand, noting ongoing conversations with a "big car brand from Germany."
The garments were produced in about four weeks. For now, the material is developed in batches in a lab, making it difficult to mass produce, but the team is hoping to tap into existing industries, like paper making, and leverage their manufacturing processes. Wait a few years, and you may find yourself zipping down a highway while sitting on a swanky car seat made of shrimp shells. And if the material's current aesthetics are any indication, you may not even know it.
via Medium
By Ellie Brandon